South Carolina Youth Soccer has started a phased approch for member teams to resume soccer activities. ESC will resume soccer activity June 1st with junior acdemy evaluations and select tryouts starting June 15th. We implement the SCYSA recommendations where appicable. Below is part of the recomendations for Phase 1 starting June 1st. Additional details for the SCYSA Recommendations can be found by following the link at the end of the article. Please let us know if you need additional clarification or have questions.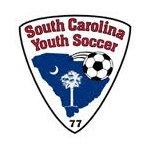 Return to Play Recommendation
PHASE 1 start June 1, 2020
Activities Permitted (dates and information subject to change)
Practices/Trainings of

single teams

on each field. No more than 10 players and coaches present on each half of the field (Full size). Smaller field sizes – see below. No more than 50 people on adjacent fields. Training/activities may begin no earlier than June 1 for any SCYSA Club
Tryouts start date June 13, 2020. See below for recommendations.
Activities NOT Permitted (dates and information subject to change)
These shall not be permitted at this time because enforcing adherence to current health safety protocols and guidelines is impossible.
Games, scrimmages or friendlies
Tournaments or jamborees-no travel permitted outside of South Carolina under Phase 1
Goal keeper training limited to use of feet only – no hands used by any player in Phase 1 unless player is Trying out for GK position